Since 2007- DRIVE The Cars Tribute has dedicated their Talents to Recreating the Music of Rock and Roll Hall of Fame Inductees "The Cars".  
For years, Drive The Cars Tribute has entertained audiences all over the country performing the classic Hits of The Cars, in a fun and family friendly environment for all ages.  
Their performances include: Resorts World Casino NYC, Revere Hotel (Boston, MA), Blue Claws Stadium (Lakewood, NJ), Breakers at Mohegan Sun (Wilkes Barre, PA), Mohegan Sun Pocono Downs 80's Summerfest (Wilkes Barre, PA), Centenary College Lackland Center (Hackettstown, NJ), FM Kirby Center (Wilkes Barre, PA) , Golden Nugget (Atlantic City, NJ)  and many, many more.  
Lead singer, Mary Beth Cronin, thrills audiences with her transformation to the persona of the late Ric Ocasek, while Lou Auricchio on Rhythm Guitar & Vocals, Bob Gallo on Lead Guitar, Cosmo Locricchio on Keyboards & Vocals, Frank Cee on Bass Guitar & Vocals and Jay Sharkey on Drums & Vocals, produce an Authentic Recreation of The Music of "The Cars".  
Dance all night and enjoy the sounds of timeless music performed by this talented group of musicians. The East Coast's Premiere Tribute to "The Cars" - Drive The Cars Tribute.  
Drive The Cars Tribute also performs a separate tribute to the timeless music of the 80's!
Mary Beth Cronin - Lead Vocals and Percussion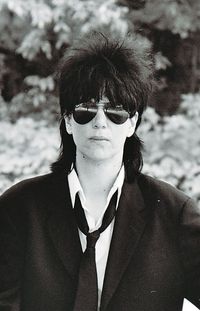 Mary Beth was originally inspired to perform watching the Partridge Family TV shows. Her singing career started at the Cherry Avenue Elementary School in Sayville, N.Y., where as a fifth grader, she sang music from "Godspell" in the school chorus. Her natural love of music led her to dabble in playing violin, tympani, keyboards, and guitar in her search for self-expression, but the stage was where she would find her niche.
By the time she was in high school, Mary Beth was studying acting with Lillian Pape. She also played multiple parts as a nurse, a reporter, and a screaming teenage fan in a school production of "Bye-Bye Birdie". After graduation in 1979, she continued her acting with the Ivy Lane Repertory Group in a production of "Strange Bedfellows".
In 1982 she met a band called The Insane Element, while at a friend's party. She asked if she could audition for them as a singer.  She auditioned and joined her first band, playing clubs in New York City and Long Island, and gaining her first recording experience until the group disbanded a year later.
By 1986 she had formed, managed and was the Lead Vocalist for Grand Passion, performing original music of which she co-wrote several songs with their lead guitarist, Reg Monsanto.
The group began recording and performing at clubs including: CBGB's, My Father's Place, The Limelight, Kenny's Castaways, and a series of public TV appearances including several appearances on the Joe Franklin show.
Mary Beth also appeared at IMAC (Huntington, NY) in a Sam Ash sponsored tribute to Elvis Presley.
In 2000, Mary Beth renamed the band Talk of the Town and started performing a tribute to The Pretenders.
In 2007, with the addition of a keyboardist, the band incorporated a tribute to The Cars.
In 2011, the band's name changed to Drive The Cars Tribute, and became The East Coast's Premiere tribute to The Cars, in addition to performing a tribute to The 80's.
Mary Beth has performed and recorded with various artists, including: Felix Hanemann (ZEBRA), Billy Pascali (Vanilla Fudge/New Rascals), Mike Score (Flock of Seagulls), Martin Chambers (The Pretenders), Liberty Devitto (Billy Joel and Big People).
Bob Gallo - Lead Guitarist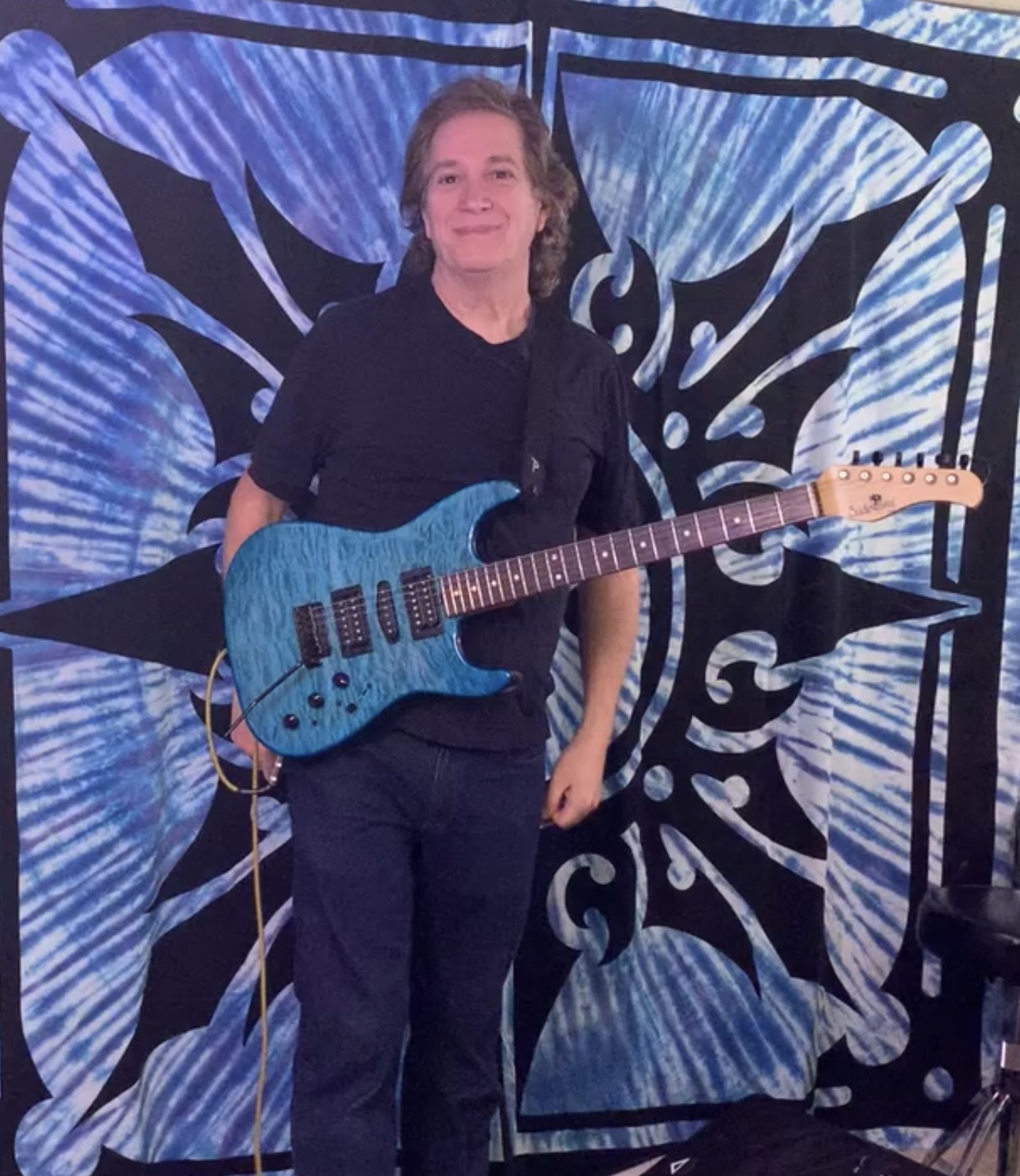 Bob Gallo is a veteran New York studio guitarist and composer. His playing and writing can be heard on numerous television shows from the 90's to the present.  Some of the highlights are "The Cosby Show," "It's A Different World," "Living Single," "Little Bill."  Bob was the guitarist who accompanied Aretha Franklin on the theme song of "It's A Different World." An active studio musician, Gallo has played various theme sessions with Al Green, Gladys Knight and Grover Washington, Jr. Currently, Bob is contributing music to the Netflix series "Emily In Paris" and "Rust Valley Restorers." He has contributed music to other televisions series such as "Love and Hip Hop," "Siesta Key," "MTV Road Rules," "Pawn Stars" and "Housewives of Atlanta," among others.  As a session guitarist, credits include singer Denise Williams' Grammy Award-winning Best Pop/Contemporary Gospel Album "This Is My Song".
Bob Gallo has played alongside a wide range of artists, including Michael Brecker, Randy Brecker, Bob Mintzer, Bob Malach, Gerald Albright, Grover Washington, Jr., John Lewis, Clark Terry, Dave Valentin, Jon Faddis, Eric Gale, Wah Wah Watson, Rodney Jones, Will Lee and Clarence Clemons.
Lou Auricchio - Rhythm Guitar and Lead Vocals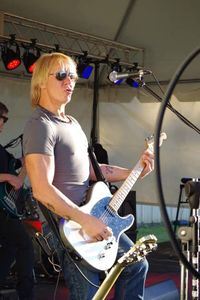 Lou is a veteran of the Long Island/Tri State area music scene for over 30 years. He performs with Drive The Cars Tribute as well as fronting his own 80's Classic New Wave Tribute band called "Screamer of The Week".  
Lou is a dynamic performer and vocalist. Lou has been a crucial part of Drive The Cars Tribute since 2018. He truly captures the spirit of Benjamin Orr.
Cosmo Locricchio - Keyboards and Vocals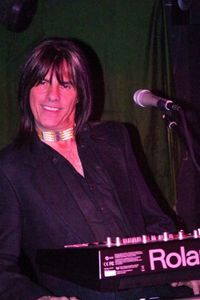 Multi-talented keyboardist Cosmo Locricchio's interest in music started in elementary school with clarinet lessons, leading to playing drums in many rock 'n' roll bands including a band that backed rock legend Chuck Berry at a benefit at Hofstra University, Long Island, New York.
With a keen interest in synthesizers, Cosmo switched to electronic keyboards. In addition, he is quite adept as a bass guitarist, working with several artists, including Award Winning Country Music Singer/Songwriter Mary Lamont.
With his enthusiasm, wide range of experience, and love of harmonies, Cosmo was a welcomed addition to Drive The Cars Tribute and has been a member of the band, since 2007.
Quote: "I will keep on playing 'til the end."
FRANK CEE  - BASS GUITAR AND VOCALS

Frank's been an established New York area Bass Player for quite some time.  
In fact, his first 80's band was actually a Top-40 band!
He has covered a lot of ground over the years playing gigs across the country with various acts.  
Since he is no stranger to the Long Island music scene, you may have seen him performing recently with a number of popular LI bands. 
Now you can see him with DRIVE. 
Jay Sharkey - Drums and Vocals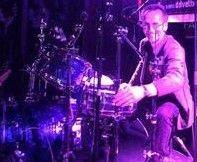 Jay is a New York drummer who has appeared in clubs throughout the tri-state area.
Known as both a drummer and a lead/backup vocalist, Jay has graced the stages with numerous Long Island and New York rock and blues bands.
His repertoire covers such diverse music as Blues, Reggae, Rock, Heavy Metal, Jazz, Latin, Funk and Soul.
In 1973, Jay performed in a band called  "Spontaneous Combustion". He replaced drummer Tony Brock. Tony went on to perform with John Waite (The Babys), Rod Stewart and Elton John.  Jay has also shared a stage with Cyndi Lauper and Billy Idol before they were famous.  From 1983-2007, Jay was a fill in drummer for Johnnie Maestro and The Brooklyn Bridge, performing with them many times. 
Jay has been performing with Drive The Cars Tribute since 2006.